Modified: August 8, 2017 10:45am
Forward this message to a friend
Click to view this email in a browser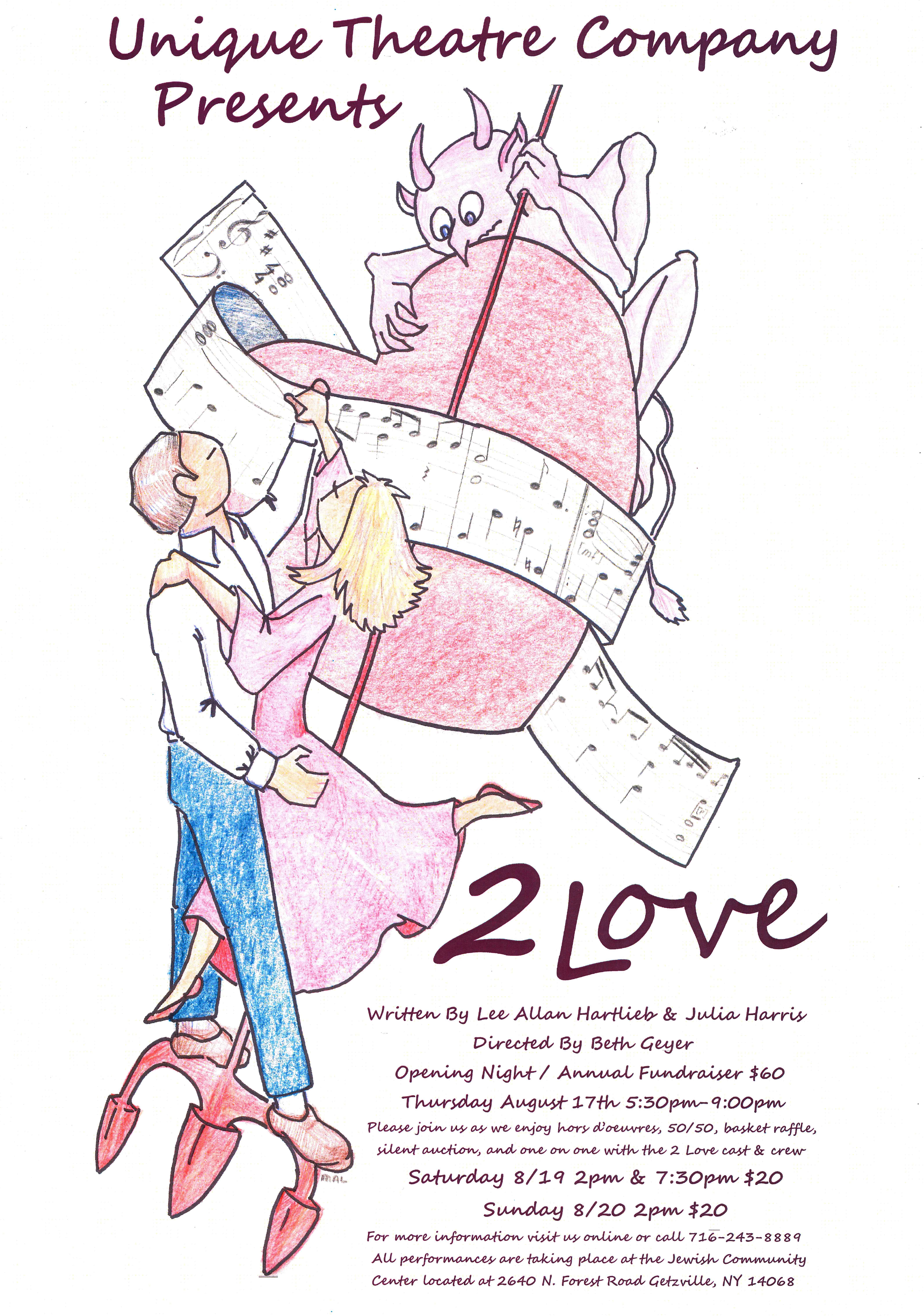 All performances are taking place at the Jewish Community Center (JCC) located at 2640 N. Forest Road Getzville, NY 14068. Doors open 30 minutes prior to show start. Tickets available online or at the door. Acceptable forms of payment include: cash, check, credit card, and PayPal.
Our Opening Night / Annual Fundraiser takes place Thursday August 17th from 5:30pm-9:00pm. Please join us as we enjoy hors d'oeuvres, 50/50, basket raffle, silent auction, and one on one with the 2 Love cast & crew. $60.00
Additional performances take place Saturday 8/19 at 2pm & 7:30pm and closing performance is Sunday 8/20 at 2pm. General seating tickets for the Saturday and Sunday performances are $20.00. For more information visit us on Facebook or Contact Us At: UniqueTheatreCompany@gmail.com or call us at 716-243-8889
Written By Lee Allan Hartlieb & Julia Harris
Directed By Beth Geyer
2 Love is an evening celebrating love. In Lament For Joe, Lee Allan Hartlieb writes a wedding that is strangely interrupted causing a love to be lost and then found. Julia Harris's play, The Contest, speaks to the kind of love that sits right underneath your nose but sometimes it takes an accident and a dance before the realization hits. In between both plays there is a monologue of love ideas and quotes. The evening is full of comedy, surprise and romance!
Starring:
Amy Cavagnaro
Amanda Rogers
Jacob Siracuse
Jalen Scott
Jason Sokody
Jon Mercado
Julia Harris
Keller Vogelsang
Mackenzie Bingham
Matt Garrison
Mary Wilde
Nate Hare
Nathaniel Wilkins
Rod Ward
Steven Ballow
Stephanie Edbauer
Are you unable to attend the fundraiser but would Love 2 make a contribution? Thank you, your generosity is appreciated. Please click here: Contributions to Unique Theatre Company Accepted Here
Forward this message to a friend
Click to view this email in a browser
Unique Theatre Company
99 Hartwell Rd
Buffalo, NEW YORK (NY) 14216
US


Read the VerticalResponse marketing policy.
Opening Night/Annual Fundraiser-Additional Performances on August 19 & 20.
Event Date:
August 17, 2017