Modified: January 25, 2017 3:45pm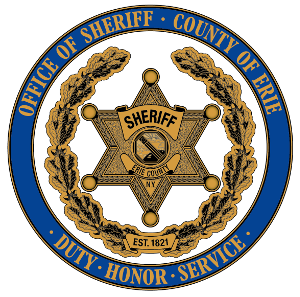 Parents Can Ask Questions, Learn Proper Installation Techniques
Buffalo, NY – Erie County Sheriff Timothy B. Howard announces a new plan to host bi-weekly car seat inspections at Sheriff's substations beginning February 8, 2017.
Sheriff's Deputies who are certified car seat technicians, will be at assigned substations on the second and fourth Wednesday of each month from 5 – 8 P.M. to inspect child seats for defects and ensure proper installation for various car seat models. According to a 2015 National Traffic and Safety Board study, overall 46% of car and booster seats are misused or installed improperly with 61% of forward-facing car seats installed improperly.
Sheriff Timothy Howard states, "Every time my office hosts a car seat inspection event, Deputies are overwhelmed by the number of parents and grandparents who stop to have a child seat inspected and we don't want to turn a parent away; that's why I am implementing this plan."
Motor vehicle injuries are the leading cause of death for children in the United States yet many of the deaths could have been prevented by utilizing a properly installed child car seat or booster. During these inspection events, a Deputy will conduct a thorough check of the seat and properly install the seat while parents can ask questions, observe the installation, and assist if they wish. Once the seat is properly installed, the Deputy will offer the parent the option to install their seat using the techniques they were shown. The Sheriff's office recommends bringing the child to ensure the proper fit of the seat.
"Often times my Deputies find a seat that is misused or improperly installed," Sheriff Howard details, "That is why it is important parents view the installation procedures and ask questions because an improperly installed car seat poses a safety risk to the child, so these added inspection sites can prove life-saving."
In New York State any child under the age of four-years-old is required to be in a safety seat and every child from four until eight-years-old needs to ride in a child restraint system, i.e. booster seat. The type of seat and positioning of the seat (forward versus rear facing) all depend on the weight and height of the child. The smaller the child the longer he or she should stay rear facing in their seat until the height and weight requirements are maxed out on their seat and their height, weight, and age allow them to be turned forward facing. It is recommended that every child remains rear facing in the proper safety seat until two years old. It is suggested that every parent or guardian read the manual provided with the seat as well as their vehicle manual for recommendations for that particular seat and best placement within the vehicle.
Sheriff's Deputies will be available at selected Sheriff's substations on (if Wednesday is a holiday the event is not held):
February 8, 5-8 PM February 22, 5-8 PM
Clarence Substation North Collins Substation
6185 Goodrich Road 10571 Main Street
March 8, 5-8 PM March 22, 5-8 PM
Grand Island Substation Springville Substation
1856 Whitehaven Road 65 Franklin Street
April 12, 5-8 PM April 26, 5-8 PM
Boston Town Hall Alden Substation
8500 Boston State Road 3311 Wende Road
May 10, 5-8 PM May 24, 5-8 PM
Elma Substation Clarence Substation
1600 Bowen Road 6185 Goodrich Road
Additional substation inspection dates will be announced in the spring. For a map of the Sheriff's substations or to see a schedule of car seat inspection dates, individuals are encouraged to visit www2.erie.gov/sheriff or the Erie County Sheriff's Office Facebook page.
The Erie County Sheriff's Office currently has five certified child seat technicians.