Modified: May 23, 2017 9:39am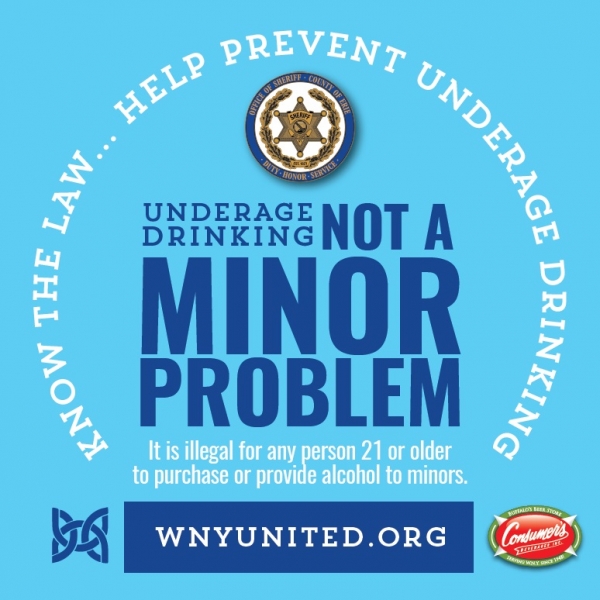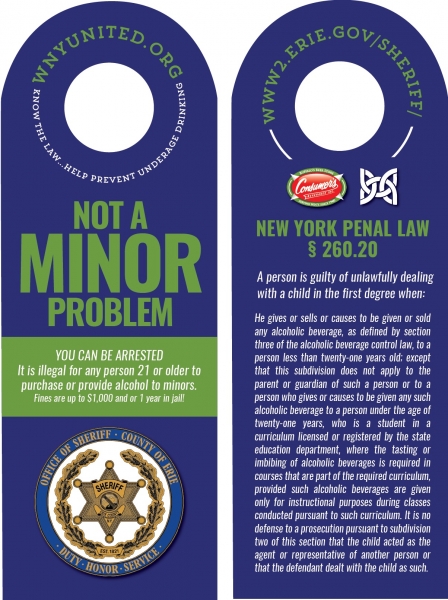 Lackawanna, NY - Consumer's Beverages, WNY United and Erie County Sheriff Timothy Howard have partnered up to launch the 'Not a Minor Problem' campaign, an initiative to help curb underage drinking in the WNY area.
The three entities will spread the message through social media and in-store displays. The campaign will kick-off May 23 with a press conference with heightened media visibility during peak drinking seasons.
"The more resources and partners we have working together to create awareness and educate our community of the dangers of underage drinking, the safer we can keep our children and families," says Beth Anzalone, Executive Director of WNY United.
WNY United partners with the Erie County Sheriff's Office to carry out environmental strategies, like sticker shock. Sheriff Timothy Howard and Deputy Aaron Naegely were determined to place 5,000 stickers this past December which led the Deputy to knock on the door of Consumer's Beverages. Neil Kavanaugh graciously opened his door and invited his team to collaborate on ideas of not only how to place these 5,000 stickers but to expand the reach of the stickers and refine the message.
"I am excited to find another partner in Consumers Beverages and its president, Neil Kavanaugh, to join my office and WNY United's campaign to educate parents, older friends and relatives about the dangers and consequences of underage drinking," explains Sheriff Howard. "And my office is determined to arrest and charge anyone supplying alcohol to underage individuals."
Through this initiative, Consumers Beverages will place stickers on cases of alcohol and bottleneck hangers on beverages that are appealing to youth. The campaign aims to curb purchasing alcohol for minors and to relay the risks of those who might attempt to break the law.
"We are very excited to be a part of this initiative that we feel will help benefit the community and could potentially save lives," said Consumer's President Neil Kavanaugh. "We take our responsibility to the community very seriously and understand the dangers of underage drinking. Our stores have, and will, strictly adhere to laws pertaining to selling to minors and those who attempt to purchase for minors. We are proud to have partnered with the Erie County Sheriff's Office and WNY United."
"Thank you to Consumer's Beverages, the Erie County Sheriff's Office and WNY United for their efforts to promote the 'Not a Minor Problem' campaign," says Erie County Legislator Lynne Dixon. "I created legislation to hold adults that allow minors who aren't their children to drink on their property, accountable. It is a serious issue and can have dangerous consequences. Educating our community about the consequences of underage drinking is critical, especially this time of year as teens are celebrating prom and graduation. I urge the community to support this effort and not serve minors."
The Erie County Sheriff's Underage Drinking Tip Line is anonymous and confidential. Concerned adults teachers, students, and friends can call the 24-hour tip line at 1.800.851.1932 to report planned or active underage drinking parties.