Modified: November 28, 2018 9:07am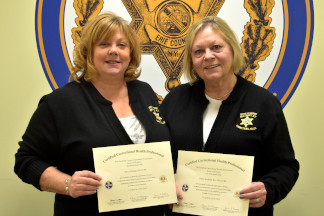 The Program Recognizes Excellence in Correctional Health Care
Buffalo, NY – Erie County Sheriff Timothy B. Howard announces two nurses from the Division of Correctional Health have achieved professional certification from the National Commission on Correctional Health Care (NCCHC) organization.
Mary Armitage, RN, and Debra Westfield, RN, ASN, were recently awarded their Certified Correctional Health Professional (CCHP) certification. Established in 1989 by NCCHC, this certification program was the first to recognize professionalism and excellence among individuals working within the correctional health care field. This highly regarded certification promotes correctional health standards and guidelines for delivering appropriate health care in a correctional environment. This program is governed by the CCHP Board of Trustees, which is composed of ten correctional health care experts and is used by the U.S. DOJ as its standard for inmate health care.
"I want to recognize Mary's and Debra's achievement and thank them for their dedication to their profession and health care of inmates," said Sheriff Timothy Howard. "Correctional health care is a demanding profession, and these achievements are well earned. These certifications continue to demonstrate the tremendous strides my office has made since taking over the Division of Correctional Health in January of 2017."
NCCHC is a national organization that works to improve the quality of care in the nation's prisons and juvenile detention and confinement facilities. NCCHC establishes standards for health services in correctional facilities, operates an accreditation program, conducts educational training and conferences and offers technical assistance for correctional health divisions. Each awardee must complete a certification class and pass a final examination covering all aspects of correctional health care and administration.