Modified: October 29, 2019 11:15am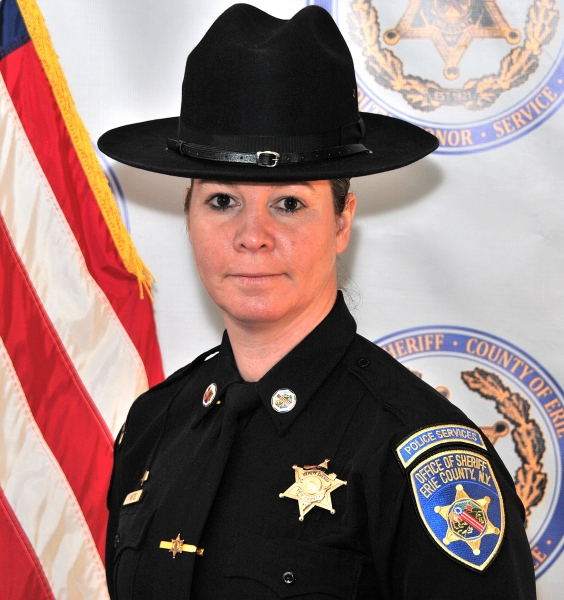 Her Second National Award Recognizing Efforts in Combating Human Trafficking
Buffalo, NY – Erie County Sheriff Timothy B. Howard announced today that Detective Theresa Nietzel was awarded Homeland Security Investigations' (HSI) human trafficking Task Force Officer of the Year for her efforts in combating trafficking.
HSI recognizes Task Force Officers who make significant contributions to investigating and combating human trafficking. Detective Nietzel's outstanding service, dedication, and investigative successes over the past few years made her a tremendous selection for this prestigious award.
Detective Nietzel was presented this award at the International Association of Chiefs of Police conference in Chicago on October 26. There she was surrounded by friends, family, and Sheriff Howard as the international policing community recognized her outstanding efforts for numerous human trafficking cases throughout the Western New York Region.
This is Detective Nietzel's second award recognizing her efforts in law enforcement and human trafficking. In 2017, she was the first-ever national recipient of the Women in Federal Law Enforcement (WIFLE) – Outstanding Contribution of a State or Local Officer on a Federal Task Force. This award recognized the exceptional investigative work of a state or local law enforcement officer in a task force group investigating an individual engaged in the trafficking of women or children for sexual exploitation or any individual for forced labor; crimes of violence against women or any minority group; or civil rights violation.
The Erie County Sheriff's Office has maintained a Human Trafficking Unit since 2005 and received millions of dollars in grant money to investigate and enforce human trafficking activities in the Western District of New York.