Modified: November 1, 2019 8:47am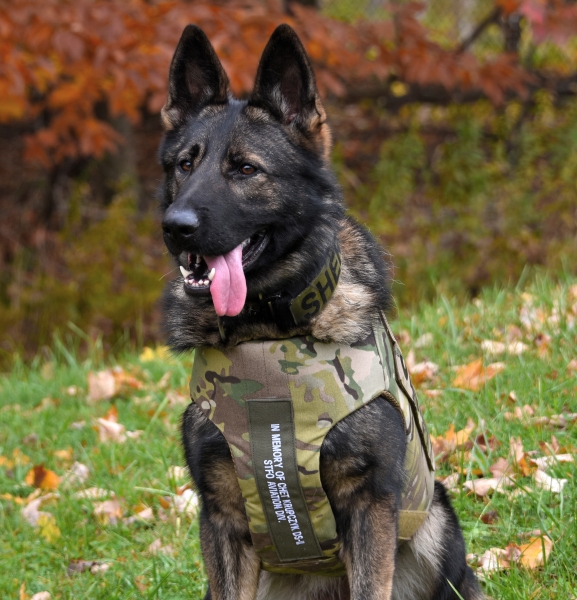 Vest will Honor One of Agency's Heroes
Buffalo, NY – Erie County Sheriff Timothy B. Howard announced today that Erie County Sheriff's Office K9 Viva has received a bullet and stab protective vest thanks to a charitable donation from non-profit organization Vested Interest in K9s, Inc. The vest was sponsored by Ellen Krupczyk of Depew, NY, and embroidered with the sentiment "In memory of Chet Krupczyk DS-II STFO Aviation Div."
Ellen, the granddaughter of Chet, organized a drive to raise funds needed to purchase the armor for Viva. This gift is in memory of her grandfather who served the people of Erie County for 35-years.
Chet served the Sheriff's Office as a Patrol Deputy and then as a Detective. During his career with the agency, he also served on the Marine and Aviation units where his commitment to service and his heroism was evident.
Chet may most be remembered for his heroics in saving three individuals while assigned to the Aviation Unit. Chet leaped from the helicopter, piloted by Capt. Kevin Caffery, onto a frozen Lake Erie to save two boys stranded on the ice. One boy was unconscious while the second fell into an ice volcano. Chet dove into the hole and dragged the boy from the chasm. These two teamed up again to pull a Canadian man from the brink of Niagara Falls.
Sheriff Howard said, "Chet will always be remembered by this agency for his professionalism and heroism, but now he is memorialized on the vest of one of our K9s. Chet was a lifesaver, and it is only fitting this generous gift from his granddaughter and Vested Interest in K9s, provides life-saving protection to the next generation of public servants – explosive detection K9 Viva.
Vested Interest in K9s, Inc. is a 501c(3) charity located in East Taunton, MA, whose mission is to provide bullet and stab protective vests and other assistance to dogs of law enforcement and related agencies throughout the United States. The non-profit was established in 2009 to assist law enforcement agencies with this potentially lifesaving body armor for their four-legged K9 officers. Since its inception, Vested Interest in K9s, Inc. provided over 3,500 U.S. made, custom-fitted, NIJ certified protective vests in 50 states, through private and corporate donations, at a value of $6.9 million.
The program is open to dogs actively employed in the U.S. with law enforcement or related agencies who are certified and at least 20 months of age. New K9 graduates, as well as K9s with expired vests, are eligible to participate.
The donation to provide one protective vest for a law enforcement K9 is $950.00. Each vest has a value between $1,744 – $2,283, and a five-year warranty and an average weight of 4-5 lbs. There are an estimated 30,000 law enforcement K9s throughout the United States. For more information, or to learn about volunteer opportunities, please call 508-824-6978. Vested Interest in K9s, Inc. provides information, lists events, and accepts tax-deductible donations of any denomination at www.vik9s.org or mailed to P.O. Box 9 East Taunton, MA 02718.