Modified: February 28, 2018 9:55am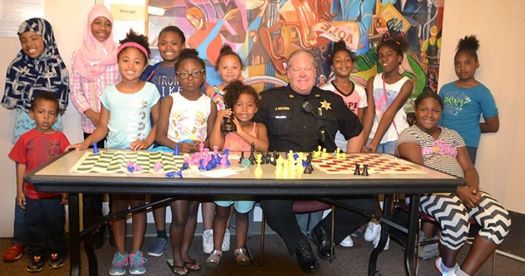 Sheriff Howard and Coach McDuffie seeking K-6 team and individual participants
Buffalo, NY – Erie County Sheriff Timothy B. Howard announces his office, in partnership with the Archangel 8 Chess Academy, will host the first annual Erie County Winter Scholastic (K-6) Championships. The championship event will be held on Saturday, February 24 at the Main Place Mall starting at 9 A.M.
Students from across the region enrolled in Kindergarten to 6th grade will participate in different classes for the title of Chess Champion. At the conclusion of the matches, Sheriff Timothy B. Howard will host the trophy ceremony and present awards to the winning players.
Coach, event organizer, and academy founder, Michael A. McDuffie, a United States Chess Federation (USCF) Coach contacted the Sheriff's Office to create this event. McDuffie recalls, "After the conflict in Ferguson, Missouri, I realized that the community and law enforcement officers wanted the same thing – to be recognized, appreciated and understood. Those are some of the benefits of chess. I thought about ways to enhance the relationship between the two groups here and began a series of friendly matches between law enforcement professionals and children in the community and the Sheriff's Office was an early and enthusiastic supporter of these efforts."
"The benefits of chess are far-reaching," stated Sheriff Timothy Howard. "This strategic and skillful activity promotes social and academic skills while transcending age, gender, race, religion, and socioeconomic backgrounds. Our chess tournament participants are learning life lessons while acting as true role models for their peers and communities."
McDuffie approached Sheriff Howard about expanding their efforts, and their discussions lead to the establishment of this championship tournament and Sheriff Howard, and Coach McDuffie hope to continue these championships on an annual basis.
The tournament will showcase, both, elementary school chess teams and individual players and all eligible teams/individuals are encouraged to participate.
For more information and to register for the Championships, visit the Archangel 8 Chess Academy website, www.knightsof64.com. The deadline for registrations is Thursday, February 22.