Modified: October 17, 2018 8:31am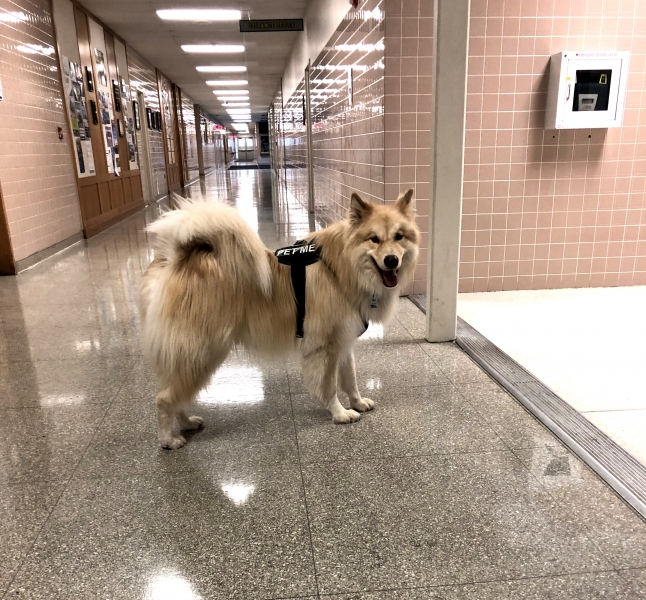 The Team is a Certified Therapy K9 Unit and will work in the Alden School District
Buffalo, NY – Erie County Sheriff Timothy B. Howard announces the addition of a second Therapy K9 unit for the Erie County Sheriff's Office.
The team of Deputy Ashley Piel and Kojak recently completed the Law Enforcement and Multidiscipline Crime Against Children Investigative Therapy Dog Course in Cocoa, Florida. There the team completed a specialized curriculum to become a certified therapy dog. The handler and canine participated in several training topics including basic and advanced obedience techniques, behavioral observation training, vehicle ops, investigative and interview techniques, as well as learn best practices from other therapy K9 programs.
Although the course is designed to help law enforcement officers and victims during investigations of crimes against children, this K9 team is assigned to Alden School District where Deputy Piel is the School Resource Officer. This team will also be deployed, along with Deputy Gordon and Loki, the Sheriffs' Office first Therapy K9 team, at school violence incidents, fatal accidents, and other traumatic incidents where the teams can bring comfort to victims and first responders.
"Our first K9 team was well received," Sheriff Howard explains, "And when Deputy Piel approached us about training a second K9 and pairing it with the SRO unit, I thought it was a tremendous idea. Not only can Kojak help in a traumatic situation, but he can help eliminate any anxiety for a student speaking to the SRO about a personal matter."
Currently, the Erie County Sheriff's Office has four narcotics detection canines assigned to the jail division, four explosive detection canines, four Police Services narcotics detection canines, one accelerant detection canine, one cadaver detection dog, and the first certified law enforcement therapy canine in New York.
Kojak is a 2-year-old Native American Indian Dog and is a hypoallergenic breed
The Sheriff's 21st Century Foundation provided funding to cover travel and lodging expenses, and the training course is free to law enforcement agencies.