Modified: February 14, 2018 9:19am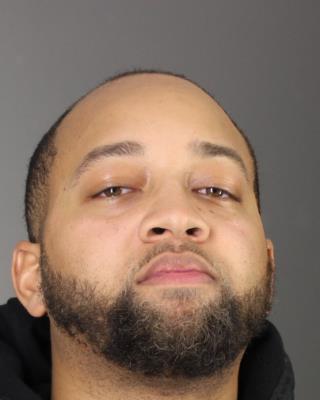 NYS Parolee is also charged with Endangering the Welfare of a 4 Month Old Child
Buffalo, NY – Erie County Sheriff Timothy B. Howard reports two Buffalo men were arrested following a traffic stop on I-190 at Long Road in Grand Island Tuesday afternoon.
At approximately 2:30 P.M., Deputy Szkatulski conducted a traffic stop after observing vehicle and traffic law violations. The Deputy's investigation discovered an A misdemeanor amount of marijuana, various drug paraphernalia items including a scale and packaging, and a loaded handgun.
Anthony Blackman, 33, of Buffalo, is charged with a felony count of criminal possession of a loaded handgun, and a felony count of criminal possession of a weapon – previous conviction. He is also charged with misdemeanor counts of criminal possession of marijuana, criminal possession of a controlled substance, three counts of criminal use of drug paraphernalia, and two vehicle and traffic law infractions.
The passenger, Jonathan Mims, 30, of Buffalo, was released after he was arrested for unlawful possession of marijuana.
Blackman is also charged with endangering the welfare of a child because a 4 month old was in the vehicle at the time of the traffic stop. The child was turned over to the mother, and Child Protective Services was notified.
Blackman is being held at the Erie County Holding Center pending his arraignment in Grand Island Town Court.
Anthony Blackman is currently on parole, and additional charges are pending.