Modified: April 12, 2018 8:17am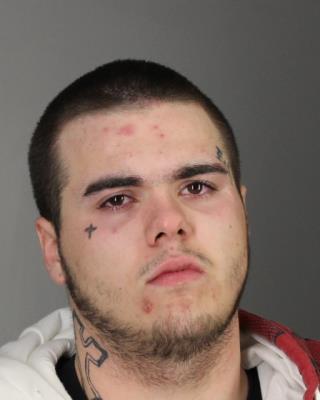 Deputies Sustained Minor Injuries, Treated at ECMC
Buffalo, NY – Erie County Sheriff Timothy B. Howard reports a male wanted by the Chautauqua County Sheriff's Office was arrested following a traffic stop Wednesday night on Grand Island.
While on patrol, Deputy Bauer initiated a traffic stop around 9:00 P.M. after observing vehicle and traffic law violations on Interstate 190. The driver stated he didn't have a license on him but provided the Deputy a name and date of birth. The Deputy's investigation discovered that the individual was not who he claimed to be and requested the individual exit the vehicle multiple times; the subject finally complied and was handcuffed. At this time Deputy Lundberg arrived to assist.
Further investigation discovered the real identity of the driver and also learned that Gage Laspesa, 20, of Silver Creek, had an active warrant for criminal possession of a controlled substance. When Deputies informed Laspesa he was under arrest for false personation and the warrant, he began head-butting and kicked the Deputies. The subject was finally detained in the rear of the patrol vehicle.
While processing Laspesa and searching the vehicle, they discovered marijuana on him and illegal fireworks in the back seat of his vehicle. The defendant is charged with two felony counts of assaulting an officer, misdemeanor counts of resisting arrest, obstruction of governmental administration, and false personation. He is also charged with two separate violations for marijuana and fireworks possession along with vehicle and traffic law violations.
Laspesa is being held at the Erie County Holding Center pending his arraignment.
The passenger, Laura Park, 29 of Elma, was also charged with unlawful possession of fireworks and released with appearance tickets.