The Professional Standards Division is an avenue through which citizens can both protect their rights and voice complaints of possible misconduct of employees.
Complaints received from citizens are treated in a positive manner. All complaints are investigated, validated, and reviewed by supervisors to determine if disciplinary action is required.
If you need to file a complaint to the Professional Standards Division, please print the form from the link below. The complaint form should be completed in its entirety, including name, contact info, and a signature, to allow investigators to contact the complainant for a thorough investigation.
Printable Citizen's Complaint Form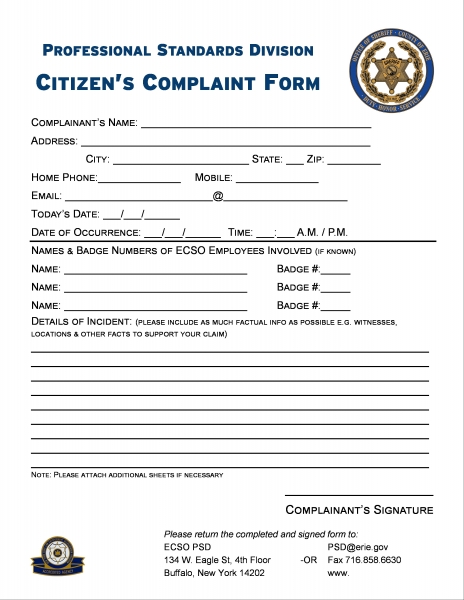 Email: PSD@erie.gov
Office: 716.858.8088
The Unit also:
Investigates inter-departmental incidents.
Conducts confidential investigations.
Prepares Civil Lawsuits.
Monitors absenteeism.
Performs internal investigations.
Conducts pre-employment background checks.
Facilitates urinalysis testing of all probationary employees.
The Professional Standards Division continues to scrutinize and update to conform with administrative and civil fields of legalism.